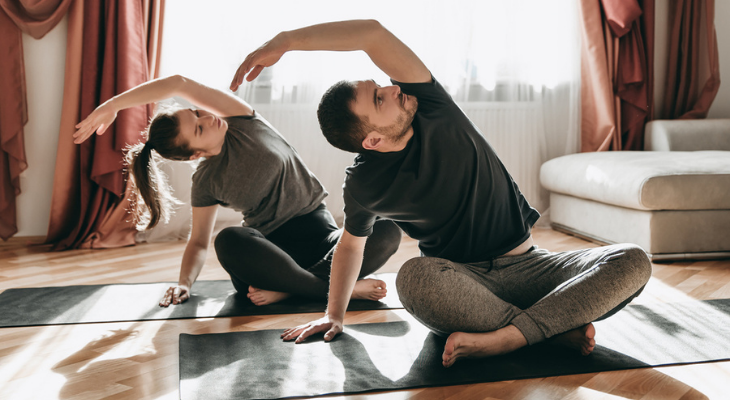 The Health Benefits of Stretching
Do you greet the morning with a satisfying stretch? Stretching loosens your muscles after a long night in bed and helps you feel alert and ready to face the day. But, if you only stretch first thing in the morning, you may be missing out on the many benefits stretching offers.
9 Reasons You Should Stretch More
Adding a few short stretching sessions to your day is a simple way to stay fit and healthy. When you stretch regularly, you'll enjoy these benefits:
Less Back Pain. You may be at risk of developing back pain even if your job doesn't require anything more strenuous than sitting at a desk. Remaining in the same position most of the day can lead to back pain, particularly if the muscles in your thighs or pelvis become too tight and pull on your back. Stretching every day is a simple way to reduce or prevent an aching back.
Straighter Posture. Slouching when you sit or stand increases tension on your muscles, joints, tendons, and ligaments, causing headaches, along with aches and pains. If your muscles and ligaments become too tight, they can even cause misalignments in the vertebrae in your spine.
Better Range of Motion and Flexibility. Flexibility declines as you get older, as does your ability to move your joints through their full range of motion. Luckily, stretching can help you keep your muscles and joints loose and limber.
Fewer Injuries. You're more likely to get hurt if you happen to fall when your muscles and joints are tight. If you play sports, warming up with a few stretches before you start the activity will reduce your risk of torn or strained muscles, bursitis, tendonitis, and other injuries.
Improved Balance. Your balance also tends to get worse with age. If you're more flexible, you'll be able to better keep your balance and avoid dangerous falls. Balance time improved by 11.4% for participants who performed 30 minutes of stretching exercises in a study published in the Journal of Strength and Conditioning Research.
No More Aches and Pains. Aches and pains are an unavoidable part of life, but stretching may make them a little easier to handle. Stretching your legs, arms, back, hips, and neck can work out kinks and soothe your sore muscles.
Less Stress. Increased muscle tension, one of the uncomfortable symptoms of stress, can cause headaches and restrict your range of motion. Stretching can help relieve some of the tightness and may help you feel more relaxed.
Better Circulation. Oxygen and nutrients reach your body's cells via your bloodstream. If your circulation is sluggish, your health can suffer. Luckily, stretching gets your blood flowing and helps you stay healthier.
Reduced Risk of Certain Diseases. Stretching could help you avoid heart disease, stroke, diabetes, and other serious health problems. Researchers at the University of Milan discovered that improving circulation with leg stretches could prevent the arteries from stiffening and help keep them open.
Taking yoga or exercise classes will help you stay limber, but you don't need to sign up for a class to enjoy the benefits of stretching. In fact, you can stretch any time you have a few moments to spare. Make sure you use slow, gentle movements when you stretch, and make stretching a daily priority.
Are your muscles and joints tight and painful because you haven't been stretching? A visit to the chiropractor will loosen your tight muscles, ease your joint pain, and realign your spine. Give us a call if you'd like to schedule an appointment for chiropractic care.
Sources:
Science Daily: Stretching Your Legs May Help Prevent Diseases Such as Heart Disease and Diabetes, 7/2/20
Harvard Health Publishing: The Importance of Stretching, 9/25/19
Self: Benefits of Stretching That Will Make Anyone Want to Move Their Body, 9/25/19
PubMed: Journal of Strength and Conditioning Research: Acute Stretching Increases Postural Stability in Nonbalance Trained Individuals, 11/2012