Dr. Nick Kousoulis is a licensed Chiropractor serving the West Los Angeles area including UCLA and Westwood Village community since 2005.
Dr. Kousoulis prescribes individual Chiropractic treatment that his patients need and deserve. Care is planned specifically to achieve pain control and condition stabilization. Dr. Nick's Diversified Chiropractic technique is considered gentle and very effective. At our Westwood office Dr. Nick offers; therapeutic modalities, FDA approved class IV cold laser therapy, spinal decompression, cupping and therapeutic exercise instruction are available and incorporated into treatment.
As a Chiropractor, Dr. Nick's primary focus is simply to adjust the spine and remove those things which interfere with the body's natural normal healing abilities and ultimately restore the body to a natural state of optimal health.
Dr. Nick Kousoulis uses a "whole person approach" when taking care of his patients. By combining the very best hands-on-technique and state of the art physiotherapy procedures, Dr. Nick is able to help you to accelerate and/or maintain your journey to good health.
Education:
Cleveland Chiropractic College 2005
Life Chiropractic College 2002
Rutgers University Bachelors in Biology 2001

Licensure:
California Licensed Doctor of Chiropractic
X-Ray Supervisor and Operator California Permit
National Chiropractic Board Certified
Certified Industrial Injury Evaluator (I.I.E.)
---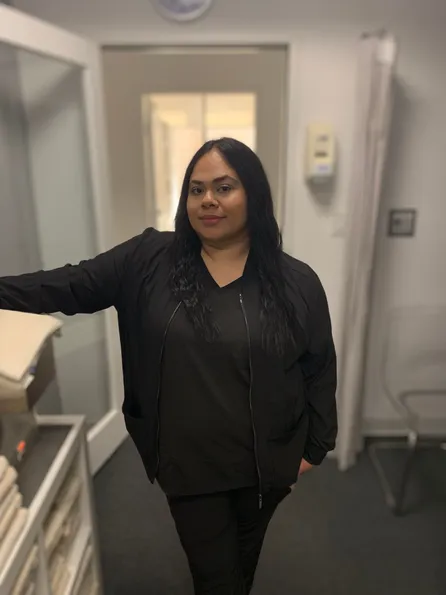 Rubi Vargas
Office Coordinator
Rubi oversees the development of policies and procedures that ensure timely, and accurate patient invoicing. She is responsible for processing and entering all accounts receivables into the database. She makes sure all contracts with insurance companies are up to date. She has been a part of Kousoulis Chiropractic since 2018. Her joyful personality has created a meaningful connection with each patient individually, and only continues to grow as new patients come to our office seeking chiropractic care.
Education
2020, Healthcare Administration, Fremont University, Cerritos, CA
2017/2018 El Camino College, Torrance, CA